13 Awesome (and Free!) Tools Your Business Should Be Using Right Now
Finding tools online to help improve the productivity and workflow of your company can be a dangerous game. Businesses should to be quick to adapt to new programs that seem tailored to their particular needs, but must be careful not to invest too much time and money in something that might not be beneficial to them in the long-run. In this age of "infomania," the overwhelming feeling of information overload, it's easy to be convinced that a new website or program is the answer to all of your businesses problems. Luckily, based on the sheer number of individuals using these tools, its becoming more apparent who is here to play and who is here to stay.
So, in an never-ending quest to identify the most useful software available, we've complied a list of the best 15 free tools your business can utilize today.
If you often find yourself making little notes, lists, or memos in your planner, on scratch paper, or on your hand (come on, we've all done it), Evernote is the tool for you. Seamlessly view documents on your computer or phone, which you can organize separately or into "notebooks". Evernote also allows you to make voice memos, insert photos into notes from your phone, and save whole webpages or customized selections.
A free video meeting tool that allows you to simply customize your meeting space and provides screen sharing. Join.me also works great with Slack, combining video and instant messaging between multiple parties. Three different plans offer additional features such as toll-free numbers and up to 250 meeting participants.
Is it any surprise that the most ubiquitous technology company in the world would have an array of free office productivity software? Google Docs, Sheets, and Slides are a free word processor, spreadsheet, and presentation software, respectively. While it doesn't have nearly as many features as something like Microsoft Word, Google Docs is powerful, fast, and fully integrated into Google Drive.
For those of you without access to Acrobat Pro and find yourself scrambling to change a small detail like a name or number, this program is for you. Don't expect the layout flexibility of something like InDesign, but you can make basic edits and changes quickly and easily.
The biggest security threats facing businesses today are cyber in nature. And while the topic is too complex to tackle in this post, one of easiest preventable measures is password management. Instead of having a notebook or (worse still) computer document full of your passwords, KeePass encrypts and stores all of your passwords on a local file system, which can be protected by a master password and key file.
Avast provides a free anti-virus that uses artificial intelligence and machine learning to constantly protect almost half a billion users from malware and virus attacks. It's one of the consistently highest rated free anti-virus programs out there and also offers a device optimization and cleanup tool to help your computer run smoothly.
Print Logger is a free application from PaperCut which provides real-time logs for office printer activity. And despite sharing its name with the most dreaded of office injuries, PaperCut's Print Logger program gives useful printer information such as time of print, user history, document names, and pages printed.
This almost twenty year-old company started as a small website largely used by high school and college students to gather research for projects and reports. In the past five years, it has dramatically redefined itself and has added numerous features making it an even more powerful tool for businesses. Paid individual and team plans offer features like extended analytics, user support, and multi-lingual surveys, but the free option remains a great choice for reaching out to customers to hone in your marketing efforts.
Canva is a great option for smaller companies who are looking for quick, clean designs for print or digital, without having to make the small investment that is Adobe Creative Cloud. Create flyers, social posts, and even business cards using Canva's wide selection of fonts, objects, and images.
Originally a paid service, MailChimp now has a free version that does an amazing job of optimizing and automating marketing emails and campaigns. With the free version, you can send up to 12,000 emails per month to up to 2,000 contacts, which meets the needs of many small businesses.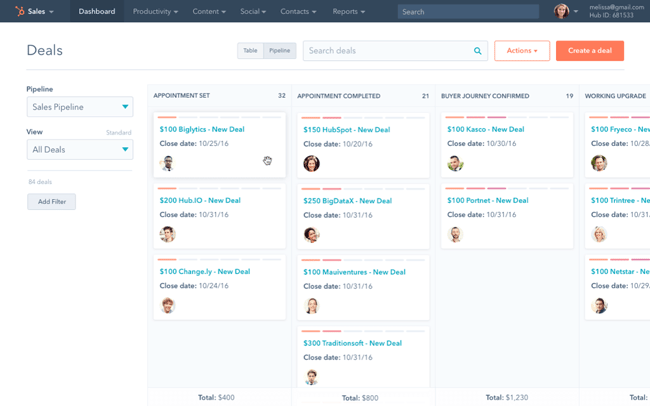 Full disclosure: we are HubSpot users here at Cobb, so we might be a little biased. But this really is a great tool— even if you stick to the free version, which features contact forms, lead flows, kickback emails, and a contacts database with an impressive amount of analytics. HubSpot also has seamless integration with other sites like MailChimp and Wordpress.
WeTransfer is a cloud transfer service perfect for sending those large files that are too large for emails. In the free version, which doesn't require a set-up or sign-in, users can send up to 2 GB to up to three email addresses in as few as three clicks. You can even have the download link sent to yourself, so you can forward that email to as many people as you'd like.
Ok, so this one isn't technically free, but it does provide a free 30-day trial that gives you access to countless hours of video courses with accompanying exercise files. And if you're a student, your may have free access to Lynda through your school email. With topics in business, marketing, design, photography, coding, and management, Lynda is a powerful source for continuing education that you can take advantage of anywhere with an internet connection.